The company plans to invest $1.5 billion across its convenience, foodservice and digital sectors over the next three years.
Other Merchandise & Services

The 7NOW Gold Pass service pays for itself in about three orders per month.

The dip is led by a 3.1-percent decrease in single-store operators.

Drivers are likely to pay more based on increased demand paired with lagging crude oil production.
Today, alcohol is consumed in just 5% of all meals. If we can increase alcohol showing up in 5% of meals to just 6%, it would be $2.8B in incremental sales across total alcohol, and $1.2B for beer. Discover opportunities and keys to unlocking that growth.
Explore Now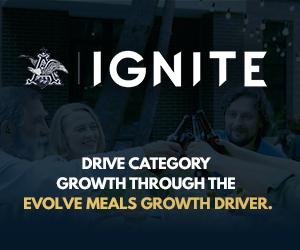 Despite being ravaged by an unprecedented pandemic, the convenience store industry may be better positioned than ever for the future.
See the Findings
Explore CSNews' interactive convenience store to learn about new product launches, line extensions, technology solutions and more, and make new connections with suppliers to help propel your business forward.
View Now!
See what this year's five Women of the Year had to say.
Jan 14

Don't let current troubles stifle new ideas.

Dec 14

The Convenience Store News team takes a whimsical look at headlines we'd like to see next year.

Sep 11

Investing in an automated kitchen can result in increased productivity, safer food operations, and better protection for employees.

July 01

Off-premise dining isn't just for restaurants anymore. With c-stores getting in on the act, remembering to protect delivered food items is an important step towards protecting your customers—and your reputation.
Reese's Blossom-Top Miniature Cups are among this year's new items.
More Products