02/26/2013
Sandwich Chains Find C-stores Seasoned for Expansion
NATIONAL REPORT -- Plenty of customers enter a convenience store looking for something to eat, whether that comes in the form of a packaged snack, a frozen treat or a hot prepared food. But increasingly, customers enter the store and make a beeline for the sandwich chain franchise located inside. Well-known brands such as Blimpie, Subway and Quiznos are all targeting the convenience channel for expansion.
More than one-third of Blimpie's submarine sandwich shops currently operate out of a c-store, and that percentage is only likely to grow as more than half of all Blimpie franchises sold since 2011 have also been c-store locations, according to the company. Meanwhile, Subway, which topped the Franchise Direct Top 100 Global Franchises Rankings for 2012, has focused heavily on c-store expansion in recent years, and Quiznos' goal for last year was to add 80 locations or more inside convenience stores and other non-traditional venues.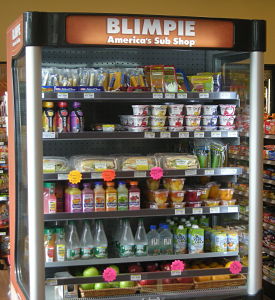 While some quick-service restaurants (QSRs) have actively moved out of the convenience industry, the growth of sandwich franchises is taking off. This begs the question: Why?
On the customer side, there's the fact that some QSR products are prepared quicker than others, and a travel-ready food item such as a sandwich fits well with the convenience market. "I think because sandwiches are more portable, that makes it probably a better fit," Jillian Clothier, vice president of franchise development for Blimpie, told CSNews Online. Relatively few convenience stores contain in-store dining space, so a food selection that can be consumed with one hand as customers drive to their next destination makes sandwiches appealing.
Convenience stores are also better suited to offer fresh food that takes a little longer to prepare. At c-stores, "the expectations for speed of service aren't as great because [sandwiches are] being freshly prepared in front of them," said Bonnie Riggs, restaurant analyst for The NPD Group. "And it doesn't require a drive-thru. There are many, many convenience stores out there, [and] very few that have drive-thrus."
One of the biggest reasons, though, that sandwich chains have targeted c-stores for expansion is the evolution of foodservice within the channel.
"A c-store didn't used to be a place where you would go in and always feel so comfortable buying fresh food, because it didn't really seem so fresh," said Clothier. That's changed. Not all c-stores have the resources to operate their own in-house foodservice program, but it's clear that consumers are forming an overall more favorable impression of c-stores as a viable place to buy a meal. "We are seeing that customers are trusting and confiding in c-stores more than they used to, and they have a confidence in them now beyond purchasing their gas and cigarettes and beer there," Clothier added.
Convenience stores, by their very nature, can also offer advantages that standalone restaurants can't, further driving franchise expansion. Subway's Allison Morrow, category manager for c-store development and assistant director of new business development, noted that there's an existing customer flow there. Most c-store customers stop in several times per week, and the relatively steady flow "puts the brand in front of customers more often," she said.
Subway franchises have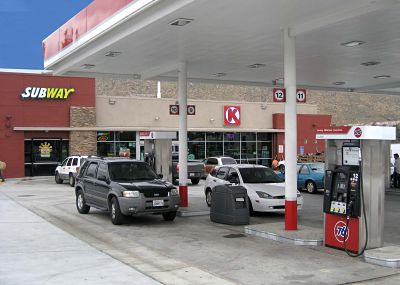 also succeeded inside c-stores in more rural areas that might not be able to support a freestanding restaurant, Morrow added, noting that this has allowed the sandwich chain to expand in areas it couldn't go otherwise.
Sandwich franchises can work just as well in small stores as they can in small towns. "What we kind of hang our hat on is our flexibility, which involves the menu items, as well as trying to work with the space that they have. We have fit Blimpie into probably 100 square feet," Clothier said. "It's kind of our motto — if you've got a space and it's a good-traffic location and you're willing to add it, we're going to make it work."
With these major chains on the lookout for new partners, c-store operators have a lot to consider when deciding whether to add a sandwich franchise. For starters, they should have a sense of commitment. While partnering with an established chain is easier than creating an entirely new foodservice program from scratch, adding a franchise isn't a simple task, and the chains themselves want operators who know what they're getting into and relish the opportunity.
"For Quiznos, growing in c-stores is all about finding the right partners to grow with. Once we hang the Quiznos sign, we want to make sure that we are giving the guests a great Quiznos experience, especially with regard to the product and the service," said Jim Lyons, chief operating officer and chief development officer for Quiznos. "This means that our c-store partners need to be as committed to running great operations as we are."
Blimpie Area Developer Pat Conlin echoed the need for dedication to foodservice. "It's not just a product line they're putting in -- a bag of chips or something like that," he said. "They're going to have training and support from us, but we want them to have people dedicated to the foodservice end of the business."
Convenience retailers should also be prepared to meet a higher standard from customers who increasingly expect more from convenience store food. These days, consumers want "quality ingredients, freshly prepared at reasonable and affordable prices, good-tasting food, so they can pick and choose," said Riggs of NPD. "They want more choices; they want more variety."
One thing retailers don't need to worry about is whether they're located in a geographic area where the sandwich chains are looking to expand in. All of the company representatives agreed that they're ready to open wherever there's a market, throughout the United States and even beyond its borders.
All outlooks show a strong future to sandwich franchises inside c-stores, but in time, they might not be the only QSRs competing for the space.
"I think that the brands that have kind of gone away from [the c-store industry] will probably end up jumping back on it in the next few years because we're seeing the operation of the c-stores improve so much," Clothier concluded. In the past, customers "[would] stop to get gas at a c-store, then they'd stop at the grocery store, then they'd stop and get dinner. Well, now they can do all three in one place."